So, you've seen people roaming the streets with their phones in their hand… For once, video games are taking people OUTSIDE! – but be careful and step away from any steep cliffs/verges…
Nintendo's app Pokémon Go has exploded across the world, throwing adults into an unprecedented frenzy to accomplish their childhood dream in a nostalgic quest to catch Pokémon in the real world. Although it has only officially launched in the UK from 13th July, swarms of people have found ways over the past week to download the app, and soon Pokémon Go will surpass app-giant Twitter in daily users on Android.
The most surprising thing? Small Business Owners worldwide are reporting how this cultural phenomenon is driving surges of people to their business.
If you're sceptical, read our ultimate guide to taking advantage of the biggest sensation brick and mortar businesses have seen in a decade, and harness the potential to turn thousands of people who play near you into customers.
When you're ready to join in the fun, download our free "Pokepack", full of promotional templates to attract trainers far and wide!

How it Works
Pokémon Go uses the GPS on smartphones to track the location of those playing. As players hold their phone up and walk around looking through the camera, animated Pokémon appear on the screen seemingly as if they were there in real life. This flawless blending of game and real-world is called "Augmented Reality", and is essentially what makes the app so shockingly popular.
The game demands that players explore the world around them. More Pokémon appear in different places as you move, with the definitive goal to be the best trainer, like no one ever was and ultimately, catch them all.

Why people are streaming to Small Businesses
The app's aim is to get the public together in a unified search for all 151 Pokémon. To do this the developers make multiple Pokémon appear in public places. Masses of players see where the Blastoises and Squirtles (classically popular Pokémon) are gathering near them on the in-game map, to which they all migrate in hopes of catching them.
These places are called PokéStops, and anything from a church, museum or restaurant can be one!

Is your Business a PokéStop?
Since Local café's, shops, bars & restaurants are commonly used as PokéStop's, check if yours is by downloading the app for free and embrace it!
This independent Vintage shop in the States discovered their shop was on the in-game app, and welcomed the influx of people with an enticing sign.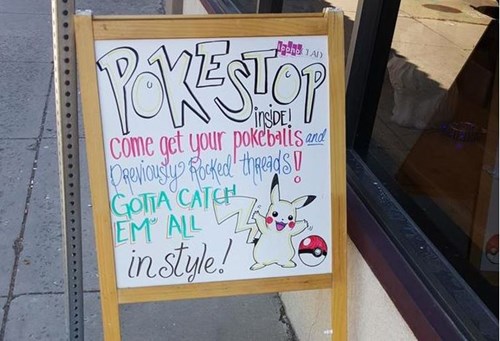 Image: forbes.com
Massachusetts based pizza restaurant The Flying Saucer discovered they were a PokéStop once swarms of people on smartphones started entering in search of the next Pokémon. Owner Nicole Spirito reported a "non-stop flow of people coming in", meaning in turn "sales are through the roof".
To utilise the surge of new custom even further, the restaurant are offering discounts for anyone who uploads a screen shot of their food and Pokémon in the restaurant and shares it on social media – gathering more coverage and encouraging more people to hunt as they eat. You can even give loyalty cards to addicted players to keep them coming back.
Stir up the excitement and fuel the competition further by giving different teams deals on certain days. The trainers are split into three teams which players are taking pretty seriously: CitySen bar attracts players of Team Mystic (Blue) 10% off one day, Team Instinct (Yellow) on another and Team Valour (Red) on the next.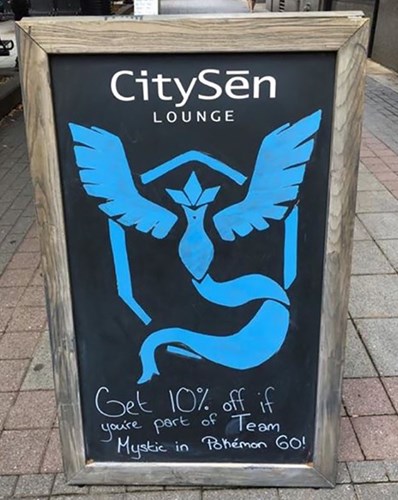 Image: adweek.com
Buy 'Lure Modules' to attract even more players
Pokémon Go even has an option to buy a "Lure Module", which when activated will attract Pokémon to a certain PokéStop for half an hour at a time. Anyone playing nearby can see in influx of Pokémon on their map and so rush to that PokéStop to catch them!
So, for a relatively small price you can buy a Lure Module, apply it to your business and watch as the crowds pile in on their mission. Incentivising your visitors to purchase products by offering discounts for every Pokémon caught will encourage people to stick around even when they've captured their prey.
L'iniozio,an Italian restaurant based in New York purchased $10 worth of Pokécoins which they converted into a Lure bringing a dozen Pokémon on site. They reported a 30% increase of sales as trainers bought a beer and played the game until their battle was over.
Activating the Lure Module during peak times such as weekends and evenings will enhance their effectiveness bringing more budding trainers to your doorstep.

What if my Business isn't a PokéStop?
Remember, Pokémon can appear anywhere, not just a Pokéstop. Keep your eye out to see if one appears, capture it on your phone and use it as social leverage to promote your business to the millions of trainers eager for their next catch.
Philadelphia staple Tommy DiNic's is jumping on the social bandwagon by posting shareable screenshots of Pokémon bopping around the restaurant.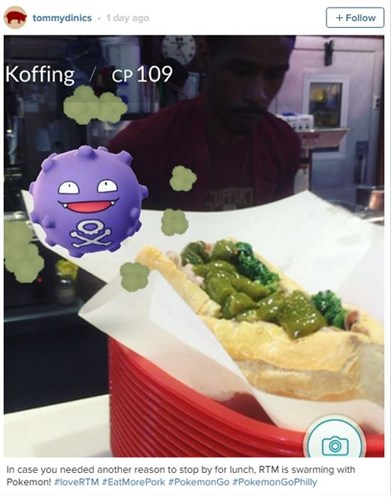 Image: bonappetit.com

Pokéstops are currently free, however it is the game's developers who currently allocate which notable spots will be chosen.
If your local business wasn't lucky enough to make it onto the coveted map, don't fear. CEO of Niantic John Hanke has confirmed to The New York Times that talks of sponsored locations in the game are on the horizon.
This means you will soon be able to pay for your shop to pop up as Pokémon hot-spot, and in return see wannabe Ash Ketchum's flock to your business!
So jump on this very surprising and exciting bandwagon and see how your business reaps the benefits. Pokéstop or not, there's a huge number of ways to join in the fun and get your company on the map. Time to start gathering your Pokécoins, and get ready to make money from the world's greatest Augmented Reality game (so far).
Get in touch to talk about digital marketing today!